Educational Pass Program for Columbus City Schools
Make Your Next Move with Your Student Success Card
COTA has teamed up with Columbus City Schools (CCS) and Columbus Metropolitan Library to offer CCS students access to our Educational Pass Program.
When the school year begins, CCS will issue a brand new Student Success Card to all CCS students in grades 9-12, granting them unlimited access to COTA transit and Columbus Metropolitan Libraries at no cost to their families.
Class
After-school activities
Part-time jobs
Internships
Night and weekend events
And more!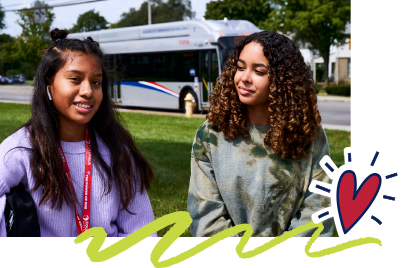 There is no cost to students!
---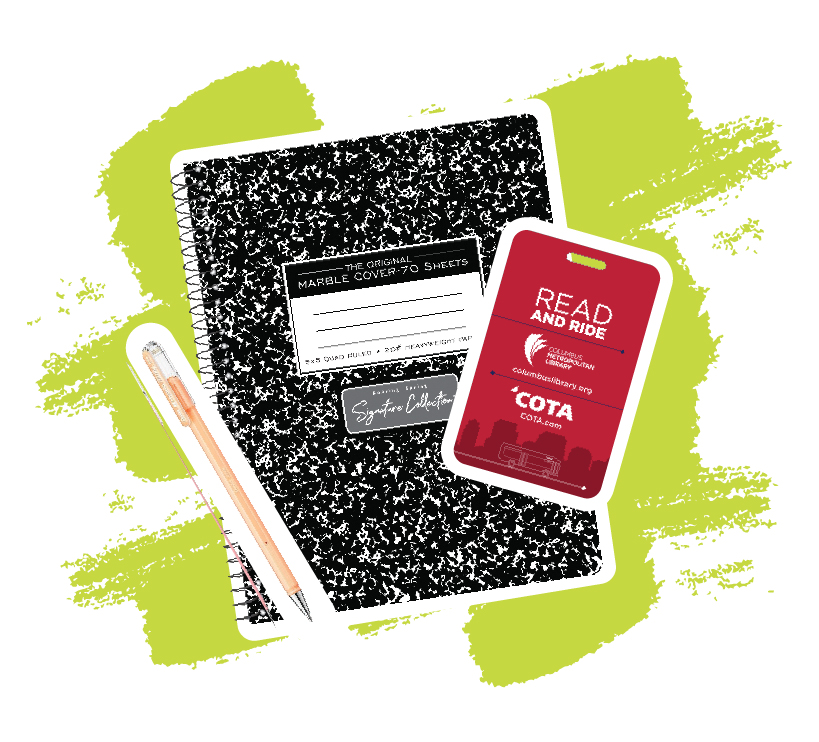 RULES OF THE ROAD
Students are required to follow COTA's Code of Conduct. Some of those rules include:
Be considerate. We're all on this ride together, so don't run, yell or throw objects.
Don't distract your Operator. Your Operator is a trained professional, so please let them work.
Turn down the volume. Speak in low tones and wear head phones to not disrupt your fellow customers.
Keep it clean. Please don't put your feet on the seat or leave trash behind.
No smoking, eating or drinking. Any food or drink brought on board must be completely covered—no spills

please!

No drugs or alcohol. It's Ohio law. Period.
Click here for a complete list of our Code of Conduct policies.
---
FREQUENTLY ASKED QUESTIONS
WHY IS COTA PARTNERING WITH COLUMBUS CITY SCHOOLS?

While students will still have access to school buses, COTA will provide additional capacity to supplement the district's transportation services. It is an important role in helping the community move forward as we continue to emerge from a pandemic and provide new transportation opportunities for students.
HOW DO STUDENTS GET THEIR STUDENT SUCCESS CARDS?

All Columbus City Schools students grades 9-12 are eligible for a Student Success Card and will receive one at the beginning of the school year.
WILL STUDENTS BE TAKEN TO THE SCHOOL ENTRANCE LIKE A REGULAR SCHOOL BUS?

No. Students will be picked up and dropped off at existing COTA transit stops. COTA does not deliver students on school property.
DO THE PASSES ONLY WORK DURING THE HOURS BEFORE AND AFTER SCHOOL?

Students will have access to COTA by using their Student Success Card at any time of the day we are in service. The passes are valid through the calendar school year but also on weekends, holidays, winter and spring breaks. We encourage students to use COTA for afterschool activities, part-time jobs, internships, job shadowing and more. This program creates more access to opportunity.
HOW CAN STUDENTS FIND OUT WHEN THE NEXT TRANSIT VEHICLE IS ARRIVING?

The best way to track when the next transit vehicle is arriving is by using the Transit app. It is free to download onto a smartphone and allows customers to track vehicles on all COTA transit lines in real time. Customers can also use the Transit app to plan their trip.

The Transit app is available for iPhone and Android phones and is free in Apple and Google Play stores.

Note: Customers can also use the Transit app to pay for their trips; however, students must use their Student Success Cards, Smartcards or BuckIDs to board at no charge.
MY STUDENT RECEIVED THEIR STUDENT SUCCESS CARD/COTA SMARTCARD. DO THEY NEED TO DO ANYTHING TO ACTIVATE THEIR COTA ACCESS?

No! CCS Student Success Cards are already activated with COTA access and students can use them on COTA beginning the day they receive their cards.
WHAT HAPPENS IF A STUDENT DOESN'T HAVE A STUDENT SUCCESS CARD?

Students must have their Student Success Card to use COTA at no charge to them. If a student forgets their card, they will need to pay $2 to board. Cash is accepted on board. If a student has not received a Student Success Card, they need to visit their school administrator immediately.
WHAT HAPPENS IF A STUDENT HAS THEIR CARD BUT IT DOESN'T WORK ON THE VALIDATOR?

Operators will allow them to ride to and from school but remind the student they need to check with their administrative office about getting the card fixed. This is only during school hours. We cannot allow students to board at no fare during non-school hours without their Student Success Cards, Smartcards or BuckIDs.
HOW LONG ARE THE CARDS VALID ON COTA TRANSIT VEHICLES?

The cards are valid from the first day of school through the last day of the school year. For 2023-2024, CCS begins on Aug. 23 and ends on May 30.
HOW DO WE ADDRESS ISSUES WITH STUDENTS?

Our Operators are trained in de-escalation and can often mitigate issues. If an Operator has any concerns with a student customer, they will call COTA's Radio Central immediately as they would with any other customer.

Chronic issues with a student could result in the student's card being deactivated by their school and COTA, prohibiting them from using transit.

All students will be given COTA's Code of Conduct, which provides clear dos and don'ts while on board.

CCS has student ambassadors (12th graders) who will work with students to help them navigate the system. While they cannot be on every transit vehicle, they will provide additional help to students.

If students need help navigating the system, they can always call COTA Customer Care at 614-228-1776. They can also download the Transit app to help them track the next transit vehicle.

Also, we encourage parents to ride with their student to help ease any concerns. A regular fare is only $2 and will help them better understand our system. Students will be able to ride at no fare during school AND non-school hours.
---
COTA makes adjustments to our service three times a year, on the first Mondays of January, May and September. This includes schedule adjustments to improve travel times, modify service, as well as construction-related route changes.
When CCS students return to class on Aug. 23, students will use the May 2023 transit schedules. However, when students return to school after Labor Day, Sept. 4, COTA will operate on September 2023 schedules. It is important to check the timetables after Sept. 4 to learn of any changes in frequency.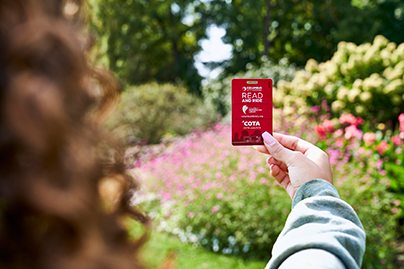 Important changes to service beginning September 4, 2023
Frequency restored on Lines 1, 2, 10 and CMAX before 7 a.m., weekdays only.
Maintain current weekday late night lineups at 9 p.m. and 10 p.m., with a newly added 11 p.m. lineup.
Frequent lines will maintain 15-minute frequency until the final 11 p.m. trip. Crosstown lines will have extended evening hours.
Lines 4, 31 and 102 will be restored to 30-minute frequency, weekdays only.
Line 35 will be restored, operating every hour from Boardwalk St & Shapter Ave to Easton Transit Center, with express non-stop service to the New Albany Park & Ride.
The COTA//Plus Northeast On-Demand Zone will end on Sept. 3.