You're invited to get in the driver's seat with COTA! Join us at our next hiring event to get hands-on insight into life as a bus operator directly from members of Team COTA. Attendees can engage with COTA staff and learn about all the steps of the hiring process. We'll also be conducting onsite interviews — you could leave this event with a job offer!
Wednesday,
October 25th
1333 Fields Ave.,
Columbus, Ohio 43201
10:00 AM to 6:00 PM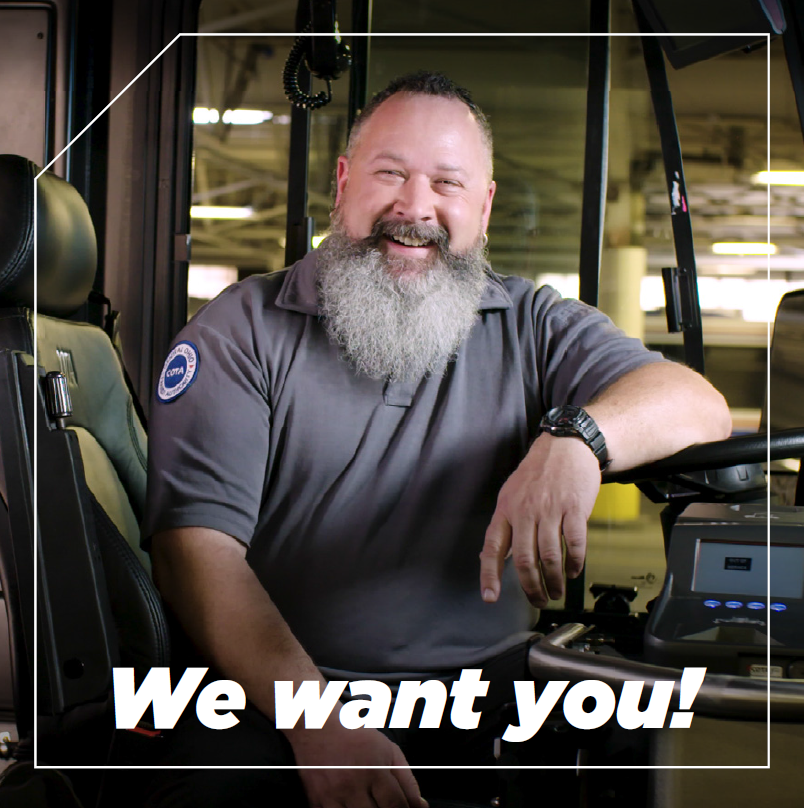 Our Fields location is accessible via the following bus routes:
12
22
Line 8 .33 mile walk to Fields
CMAX .45 mile walk to Fields
Now is the perfect time to join Team COTA!

Starting pay rate of $20.50
$2,000 sign-on bonuses for newly hired student bus operators*
$2,500 sign-on bonuses for those already in possession of a CDL-B license*
Onboard Pay: $21.74/hour
Training Pay: $20.50/hour
Top Pay 5 Years of Service: $33.44/hour
*For new hires, half of the incentive would be paid on the first day of employment and the remaining would be paid out after six weeks of training.
---
Employee Benefits
COTA is a people-first company focused on building a diverse, equitable and inclusive workforce. To help you thrive personally and professionally, we offer comprehensive benefits.
Comprehensive insurance: medical/prescription, dental, vision
Health flexible and dependent care spending accounts
Retirement/savings benefits: Ohio Public Employees Retirement System (OPERS), 457(B) Deferred Compensation Plan
Time off: vacations, holiday, sick pay
Healthy living benefits: biometric screening, fitness and wellness reimbursement
Basic life and accidental death and dismemberment insurance
Disability insurance: short-term and long-term
Unlimited fixed-route COTA access
Moving your life forward: personal training and development, job advancement, and employee assistance program (EAP)
---
Fill Out an Application Now